By Cops for Cops
Listed below are software applications built by cops available to cops for free or very low cost:
Hero 911 – Active School Shooting Alert Application
Lead Agency: Hero 911 Network
Point of Contact: Michael Snyders, mike@hero911.org, 217-816-4261
Description: Would you as a law enforcement officer, on or off duty, like to know if an active school shooting is occurring in your immediate area? The Hero911 Network forms a Social Protection Network™ dedicated to reducing law enforcement response time to active school shooting incidents. The Hero911 smartphone application provides a low key push message for situation awareness to any active shooter incident nationwide so users can refer to appropriate media. Hero911 compliments 911 services by launching an immediate alert to all LEOs providing the user with the address, map and additional information when within 10-15 miles of a reported active shooter.
Cost: Free
Fusion Framework (aka Fusion Core Solution/FusionX)
Lead Agency:  Microsoft Corporation
Point of Contact:  Joe Rozek, jrozek@microsoft.com
Description:  Sponsored by the  Microsoft Corporation, Fusion Framework is a set of homeland security and public safety tools  wholly conceived and developed by law enforcement in Illinois, Washington, and Florida.  Joe Rozek, former Special Assistant to President Bush for Domestic Terrorism and Colonel, U.S. Army Special Forces (Retired) led the charge to develop an "integration and collaboration layer" that fusion centers can use to better integrate the stovepiped array of applications and data thrust upon them and to improve the effectiveness and effficiency of their analysts. In a nutshell, the Fusion Framework is a collection of web parts and InfoPath forms to be integrated into those fusion centers that use (or plan to use) Microsoft SharePoint as their portal and way of tracking the business process of their center.
Cost:   Web parts and forms are free to law enforcement agencies; contact Joe for more details.
Website:  http://www.microsoft.com/industry/government/solutions/Fusion_Framework/default.aspx
Tactical Nav (Built by Soldiers, useful to Cops)
Lead Agency:  AppDaddy Technologies, Inc
Point of Contact:  jonathan@appdaddytech.com
Description:  Tactical NAV incorporates many of the latest feature sets found in Global Positioning System (GPS) devices costing upwards of hundreds and even thousands of dollars – all while bringing you the same accuracy for a fraction of the cost. Camera mode includes the ability to take photographs stamped with GPS coordinate data. After the photos are taken, they are saved to the phones internal memory which can then be sent to other users via email or MMS – this functionality has a variety of uses.
Cost:   $5.99 per download
Website:  http://www.tacticalnav.com/
Alabama Dashboards for Visualization, Analysis and Coordinated Enforcement (ADVANCE)
Lead Agency:  Alabama Criminal Justice Information Center (ACJIC)
Point of Contact:  Maury Mitchell
Description: ADVANCE was established by the Alabama Criminal Justice Information Center (ACJIC) in order to provide the criminal justice and public safety communities with the latest advances in analytic and visualization technologies. ADVANCE was developed for ACJIC by The University of Alabama's Center for Advanced Public Safety (CAPS). It is supported by several tools that have been developed by CAPS over the years, including the basic data structures and efficient retrieval techniques that are an integral part of the Critical Analysis Reporting Environment (CARE).
Cost:   Talk with Maury
Website:  http://www.dhs.alabama.gov/acjic.aspx?sm=b_a
Florida Integrated Network for Data Exchange and Retrieval (FINDER)
Lead Agency:  Center for Law Enforcement Technology, Training, and Research (LETTR)
Point of Contact:  Det. Jim McClure
Description:  Originally sponsored by the Orange Co. Sheriff's Office in Orlando, FL.  Project grew from grassroots efforts to share pawn data to inclusion of nearly 140 LE agencies.  This project successfully implements the distributed data sharing model, at a relatively low cost. Built on .Net platform w/SQL Server backend.
Cost:   $2,500 to $10,000 per year, per agency (depending on size)
Website:  http://www.lettr.org/
Maryland State Police Electronic Traffic Information Exchange (E-TIX) eCitations
Lead Agency:  Maryland State Police
Point of Contact:  Sgt. Doug Baralo or Cpl. Chris Corea
Description:  One ticket handles multiple violations. 99% of data entry through touch screen.  Built on .Net platform; server-based application. Can be hosted on Oracle or SQL Server (uses NO stored procedures).  Hardware kit available for patrol cars; includes 2D barcode scanner and thermal printer. Connects to message switch for NCIC/Hotfiles lookups. Connects to District Courts through backend.
Cost: Free (software only); can also entertain hosted pilot
Website:  http://etix.mdsp.org
Case Explorer – Intelligence and Case Management Software
Lead Agency:  Washington-Baltimore High-Intensity Drug Trafficking Area (HIDTA) Task Force
Point of Contact:  Bob Bouland, caseexplorer@wb.hidta.org
Description:  Case Explorer is computer software developed for law enforcement and other public safety organizations. It provides basic case management features with functionality focused towards information sharing. Case data is deconflicted as it is entered into the system. Notifications are sent for case matches. Cases are entered into the system with relevant people, addresses, numbers and other supporting information.
Cost: Free (software only) – or you can inquire to be included in WB HIDTA system
Website:  http://www.caseexplorer.net
TICKETS – Computer Aided Dispatch (CAD) Software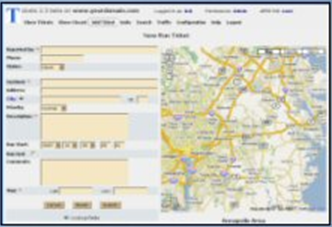 The Tickets Project has it origins in the Florida hurricanes of 2004. From conversations with friends in Florida's emergency services community, he discovered that while the larger counties (such as Fairfax) had CAD systems available, the smaller communities did not (and to quote Arnie "but the good Lord must love smaller counties, since He made so many of them.") Here is a golden opportunity for demonstrating the usefulness and versatility of Open Source Software, and Arnie took up the challenge.
While we realize that Tickets isn't for everyone, we do understand that the cost of commercial CAD products can pose a real hurdle to many organizations – whether volunteer or career – that really could use a capable CAD product in their operations. Tickets may be able to help you clear that hurdle, and help make scarce funding available to meet other needs.
How is it Being Developed?
Tickets is built using PHP and a MySQL database. This allows the program to be run on a wide variety of platforms. The program also makes use of the Google Maps API. This provides a mapping interface that is usually only found on only the most expensive CAD programs.
Get Tickets – You can get a copy of Tickets and view currently available files on our Download Site.
I

SEE

–

I

SAY

– Free Phone App for Reporting Suspicious Behaviors

Launched by active law enforcement officers in Florida, isee–isay is a private homeland security service and not affiliated with any government agency. They relay homeland security and criminal related tips from anyone who wishes to send them, as well as provide immediate updates on breaking reported incidents and any change in status to Homeland Security advisory. isee–isay promotes homeland security and emergency preparedness through awareness, education, community involvement and partnerships between individuals, groups and organizations. They believe that through education and awareness some instances of terrorism may be prevented and through preparedness lives can be saved.
Get isee–isay– Visit their website at http://www.isee-isay.com.
More coming soon…email me if you have something to offer – chuck@nowheretohide.org